Remote Oil Well Abandonment Along Lake Huron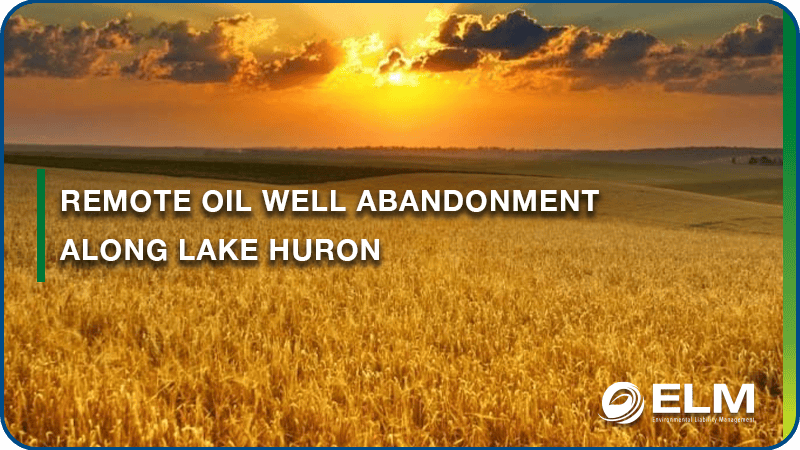 Client Environment
ELM was contracted to help the client locate 'lost' oil wells from the 1800s era within the shoreline of Lake Huron in Ontario. The work had to be performed in close proximity to the sensitive lake shoreline where woodlands were known to be used by Species at Risk.
Once the oil wells were located, abandonment involved separating the soil into stockpiles based on colour, odour, as well as proximity to the oil wells. Focal soil sample analyses were used to determine extent of excavation and remediation.
Program Deliverables
ELM was able to return 70% of the soil back to the excavation site with the remainder sent to a secure landfill. Imported top soil was brought in and mixed with local soils to improve reclamation efforts. ELM was also able to improve drainage to Lake Huron.
BOTTOMLINE: The client was able to save well over $100,000 in landfill fees because of ELM's soil stock-piling strategy. In addition, the client was able to save more than $50,000 in fees for the delivery of clean fill to the remote site as a result of reusing clean soil secured at site.
Building On Our Collective Industry Experience

5,300
Well Abandonments

11,000
Decomissioning Projects

280
Site-Specific Liability Assessments

15,000
Wellsite Audits

$1.9B
Client Liability Cost Reductions
COMPETITIVE, CAPABLE, AND EXPERIENCED
ELM Inc. is an environmental liability management company that is expanding quickly and offers top-notch services to businesses across Canada at affordable prices.
Contact our team by calling 1-587-392-4000 or completing our contact form right away to learn more about our environmental management, remediation, and reclamation services.